Our company transports customers' valuable cargo all over the world, responding to customers' requests promptly and appropriately. In September, 2010, we launched comprehensive services in air cargo business by obtaining the status of the authorized cargo agent for IATA in Japan region and managed to take an integrated transportation responsibility by issuing our own Air Waybill. In particular, we are focusing on cargo handling services between Japan and China and based on these services, we aim to expand our network all over the world.
We recommend this service to the following customers:
For customers exporting and importing components for precision machines or medical equipment, etc.
For airfreight forwarding companies (our logistics center is available)
For airline companies (in case of transportation among three airports)
Highlights
Not only we transport customers' valuable cargo by airfreight all over the world, but we can offer a multi-modal transport service combining various modes of transportation, having an air transport as its hub such as from a ship to an airplane, from an airplane to a railway, etc.
We have a multifunctional logistics center close to Narita International Airport.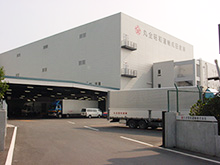 We have a most advanced logistics center close to Narita International Airport, combined with air-conditioned warehouse having antistatic function, fixed temperature warehouse and refrigerating warehouse. We offer high quality services by implementing our unique export and import management system. This logistics center is available as a common shed for airfreight forwarders.
We offer transportation services among three airports.
As our service for airline companies, we offer transportation service among three airports, namely, among Narita International Airport, Chubu Centrair International Airport and Kansai International Airport, by loading air cargo for export and import in ULD (Unit Loading Devices) on air cargo truck (known as auto-con vehicle).
We can arrange ULD build-up works inside the center.
We are equipped with the handling facilities to make ULD build-up works inside the center. We handle such works on behalf of airfreight forwarders.

*ULD : abbreviation for Unit Loading Devices. Devices to load air cargo by unitizing them onto the airplane in the form of box-type container and plate pallet, etc.
*Build-up: Process to stack air cargo in ULD