We offer an integrated domestic and overseas system for moving, installing and dismantling large industrial plants and factory facilities overseas.
We handle incoming and outgoing cargo ex Japan and making use of our overseas network, we also offer intermodal transport from one overseas location to another.
We recommend this service to the following customers:
Plant engineering customers in Japan
Manufacturers thinking of entering foreign markets
Trading companies or manufacturers handling ODA cargos
Highlights
In coordination with our overseas partners, we handle dismantling, moving and installing of large industrial plants and factory facilities overseas and transport of heavy loads, etc. Our integrated transport system, from packing, ship loading and ocean transport to customs clearance, land transport and installation at the overseas destination, offers safety and reliability. We have a strong reputation among our customers for sophisticated technology and extensive experience in transporting and installing LNG, oil refinery, petrochemical and manufacturing plants in Africa, the Middle East, Southeast Asia, China, Korea and other areas.
Technologies developed through our mechanical engineering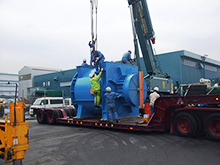 As a logistics company, we handle out-of-the-ordinary mechanical engineering. We have extensive experience moving and installing factory equipment in Japan and abroad and our technological capabilities are highly regarded.
We are professionals in industrial plant transport by sea

We have an extensive roster of staff members who have worked onsite abroad or as supervisors for plant engineering companies and have extensive experience with industrial plant transport. Our seasoned professionals provide coordinated management for the entire process from the project planning stage to management of the overseas site.


Past Projects
Description of Projects Handled-Transport of Materials for Plant Construction
SERVICE: Onshore SV, FOB, Forwarding, Offshore/Onshore transportation
| WORK YEAR | NAME OF PLANT & COUNTRY | HANDLING TONNAGE |
| --- | --- | --- |
| 2011 TO 2013 | Petrochemical plant Jurong, Singapore | 65,000F/T |
| 2016 TO 2020 | Gas processing plant Bahrain | 50,000F/T |
| 2016 TO 2020 | Gas processing plant Bahrain | 8,000F/T |
SERVICE: FOB, Forwarding, Offshore transportation
| WORK YEAR | NAME OF PLANT & COUNTRY | HANDLING TONNAGE |
| --- | --- | --- |
| 2005 TO 2007 | Gas processing plant Dammam, Saudi Arabia | 15,000F/T |
| 2006 TO 2009 | Petrochemical plant Rabigh, KSA | 80,000F/T |
| 2008 TO 2009 | Steel plant Korea | 60,000F/T |
| 2010 | Cement plant Saudi Arabia (PG) | 5,000F/T |
| 2011 | Cement plant Saudi Arabia (PG) | 2,000F/T |
| 2014 TO 2016 | New installation of production line for sheet iron Vietnam | 8,000F/T |
| 2015 TO 2016 | Steel plant Vietnam | 70,000F/T |
| 2015 TO 2017 | New construction of steelmaking and rolling facilities Vietnam | 8,000F/T |
SERVICE: FOB, Forwarding, Offshore/Onshore transportation
| WORK YEAR | NAME OF PLANT & COUNTRY | HANDLING TONNAGE |
| --- | --- | --- |
| 2009 | Gas processing plant Bahrain | 10,000F/T |
| 2009 TO 2010 | Chemical plant West Virginia, U.S.A. | 3,000F/T |
SERVICE: FOB, Offshore/Onshore transportation
| WORK YEAR | NAME OF PLANT & COUNTRY | HANDLING TONNAGE |
| --- | --- | --- |
| 2012 TO 2016 | Transportation project for experimental facilities Canada | 280F/T |
| 2014 TO 2015 | New construction of transmission parts factory Thailand | 3,200F/T |
| 2016 TO 2017 | Rock wool manufacturing facilities Indonesia | 5,200F/T |
| 2018 | Transfer of automotive resin tank manufacturing facilities Taiwan | 1,000F/T |
SERVICE: Forwarding, Offshore/Onshore transportation
| WORK YEAR | NAME OF PLANT & COUNTRY | HANDLING TONNAGE |
| --- | --- | --- |
| 2017 TO 2020 | Transportation project for large boiler Saudi Arabia | 20,000F/T |
| 2019 TO 2020 | Transportation of facilities for Thermal Power Station Aichi, Japan | 38,000F/T |
SERVICE: Onshore SV, FOB, Forwarding
| WORK YEAR | NAME OF PLANT & COUNTRY | HANDLING TONNAGE |
| --- | --- | --- |
| 2010 TO 2013 | Petrochemical plant Dammam, Saudi Arabia | 50,000F/T |
SERVICE: Onshore SV, Forwarding, Offshore transportation
| WORK YEAR | NAME OF PLANT & COUNTRY | HANDLING TONNAGE |
| --- | --- | --- |
| 2016 TO 2017 | Thermal power station project Vietnam | 4,000F/T |
SERVICE: Forwarding, Onshore transportation
| WORK YEAR | NAME OF PLANT & COUNTRY | HANDLING TONNAGE |
| --- | --- | --- |
| 2011 | Paper mill Japan | 1,700F/T |
SERVICE: Onshore SV
| WORK YEAR | NAME OF PLANT & COUNTRY | HANDLING TONNAGE |
| --- | --- | --- |
| 2014 TO 2015 | Ethylene plant Texas, U.S.A. | 200,000F/T |
| 2017 TO 2018 | Transportation project for large rectifier Bahrain | 8,000F/T |
MAR, 2021